Anti Mapping / with Miki Kratsman
Al-Jammama, Position: 31°29'51"N 34°41'7"E, Altitude: 164.2 m, Timestamp: 17.12.2018 – 13:27
al-Burj, Position: 31°54'9"N 35°1'14"E, Altitude: 276.6 m, Timestamp: 27.10.2018 - 10:15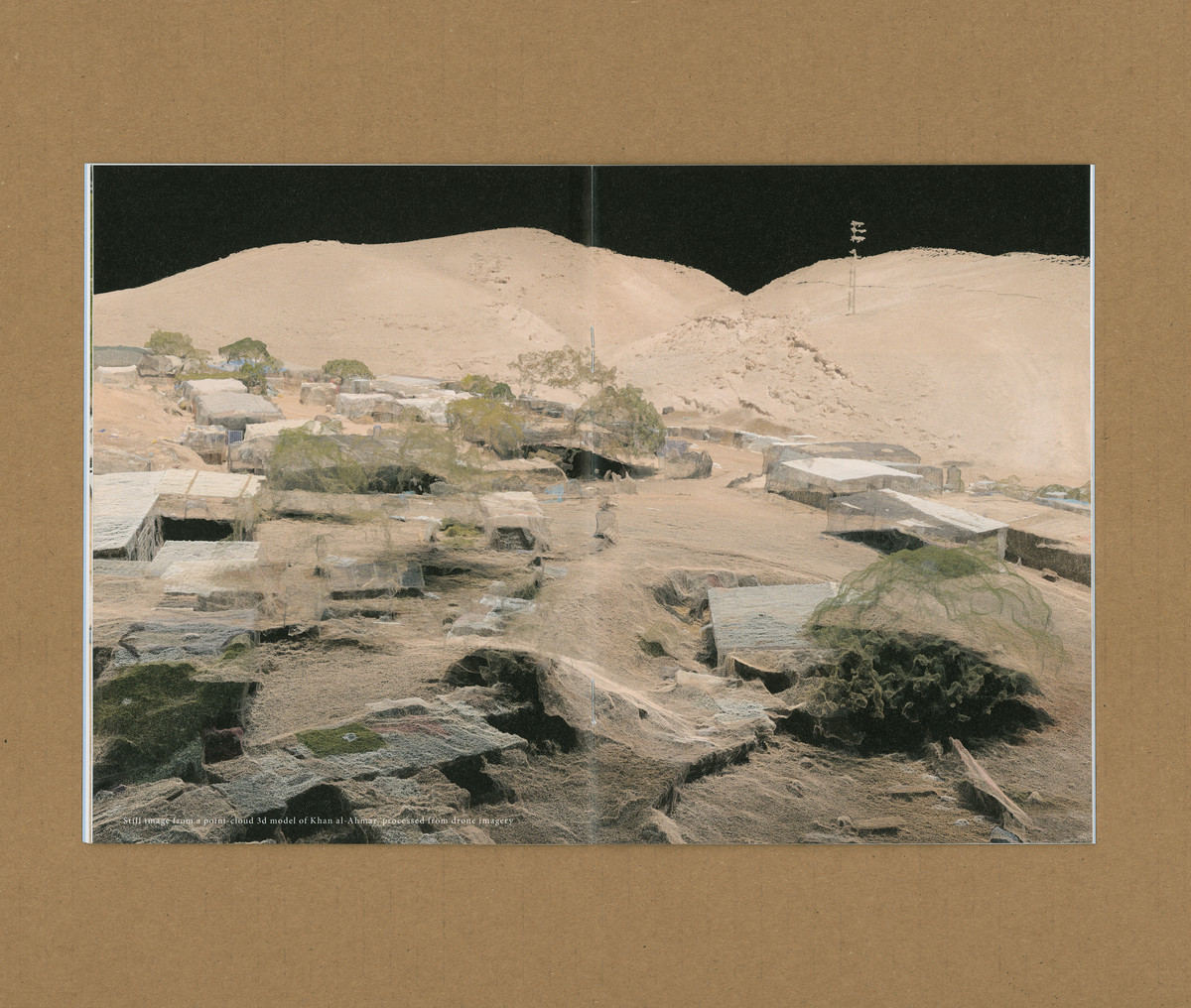 Anti-Mapping: Khan al-Ahmar, with Miki Kratsman. Angle issue 24, Multipress, Norway. Curated by Hester Keiser




Anti – Mapping is an ongoing project with the aim to continuously create maps as alternatives to the maps presented by the establishment, and thus avoiding the restrictions of visibility given by the Israeli government - 2.5 meter per pixel (as opposed to 0.5m worldwide). Our goal is to provide the opportunity to see. The maps shows places that disappeared from the official maps like the "Unrecognized Bedouins Villages", the "1948 Palestinian Villages" and other places that has no presence in online and offline maps. Khan al-Ahmar is one case out of many that has been documented in the project.






Khan al-Ahmar, Position: 31°48'42"N 35°20'21"E, Altitude: 236.4 m, Timestamp: 25.6.2018 – 12:20
Khan al-Ahmar cosists of twelve Palestinian communities with a total population of about 1,400 residents. These communities are scattered on either side of the Jerusalem-Jericho road, east of the industrial zone of the Ma'ale Adumim settlement. Residents of these communities have very few sources of income, suffer a serious lack of health, education and welfare services, and live without basic infrastructure such as an electricity network, a sewage system and proper roads. One of these communities is known as the Khan al-Ahmar School community. Its members belong to the Jahalin Bedouin tribe, originally from Tel Arad in the Negev desert, from where they were expelled by the Israeli military in the 1950s. After the initial expulsion, members of the community leased land for residential purposes and for herding in the area where the settlement of Kfar Adumim is now located. They resettled in their current location after they were expelled from there, too.

As of this writing, the Khan al-Ahmar School community face an imminent threat of another expulsion and relocation by Israeli authorities.

Anti-Mapping at Tel Aviv Museum of Art, March - October 2021


Anti-Mapping / Case: Khan al-Ahmar, Case: Nakba & The Green Line, Case: Unrecognized Bedouin Villages, Case: Urban Combat Training Centers. With Miki Kratsman. Produced for 'Visual Rights' at Open Ey Gallery, Liverpool.